Best Baseball Board Games Gift Guide For 2022!
If you're looking for some baseball board games gift ideas for someone who loves the game the game of baseball, then you've come to the right place!
These baseball board games would make a great gift for a birthday or Christmas present.
Whether they're a lifelong fan of Major League Baseball or just a young player ready to start their love of America's game of baseball!
Be sure to check out all of our Buyer Gift Guides!
Now let's look at the Best Baseball Board Games Gift Guide For 2022!
---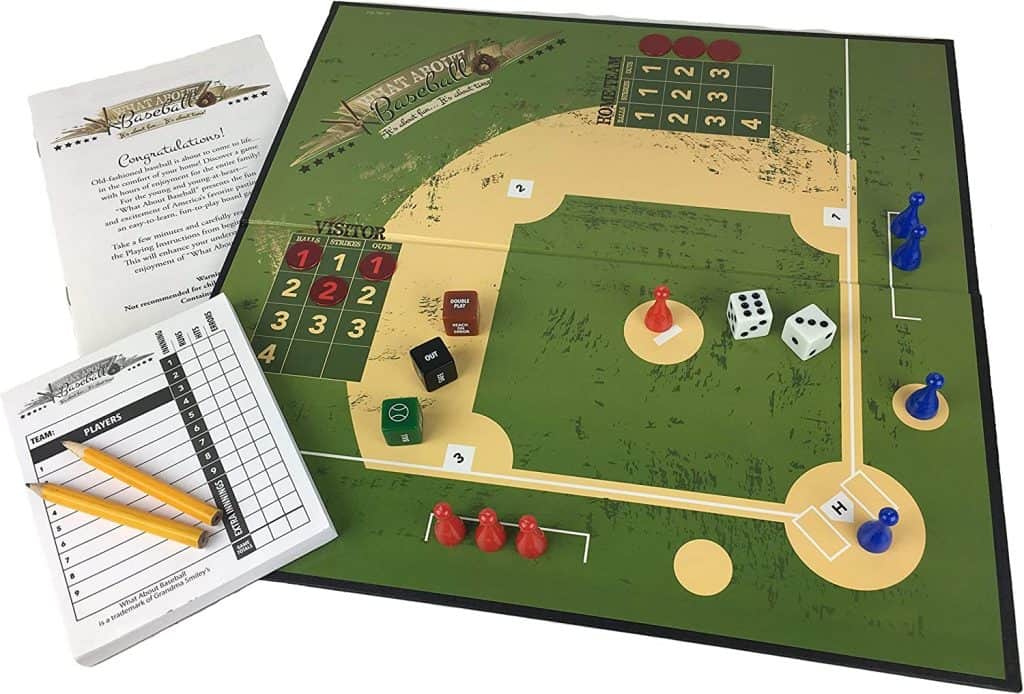 What About Baseball Board Game is a perfect gift for every fan of baseball.
Whether you are the young rookie just learning to hit on a tee in the backyard, or the upcoming Major League All Star.
What About Baseball is an out-of-the-park grandslam home run.
All ages and skill levels can easily jump in for a game of What About Baseball.
Basic gameplay is just ideal for younger ages and newer players.
While older or more experienced players will just love the challenge, complexity and realism that the advanced gameplay strategies provide in this great baseball board game.
---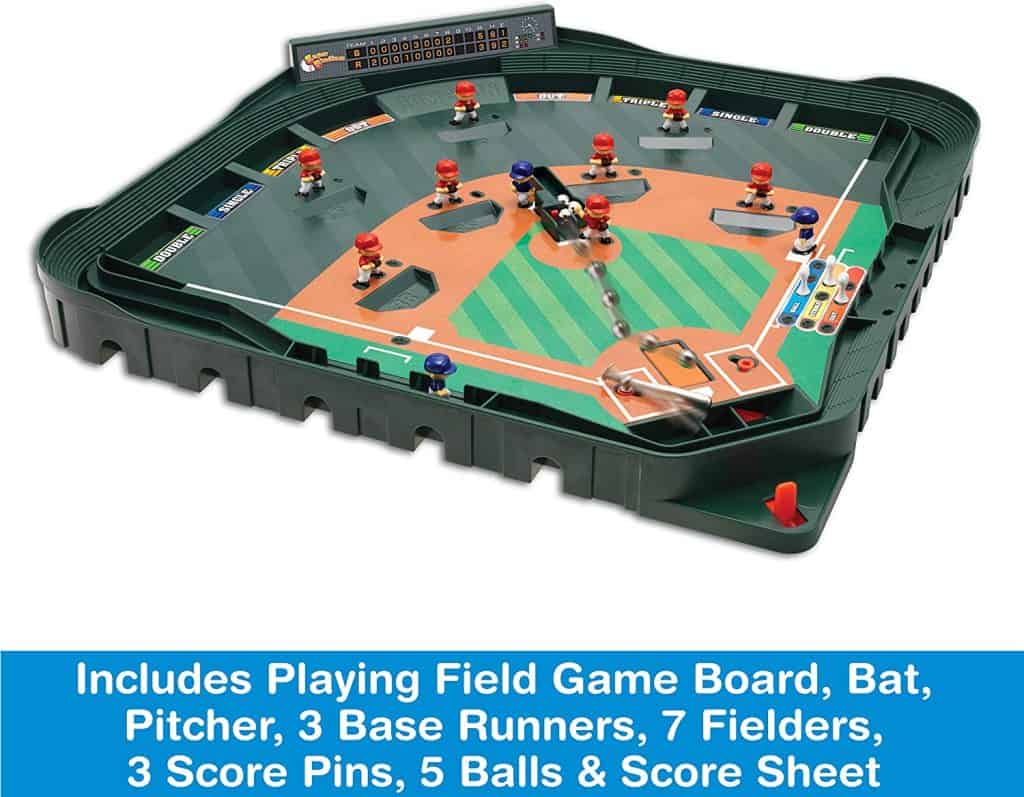 Launching levers and hidden contraptions make this miniature baseball game a real crowd-pleaser!
Step up to the plate and swing for the fences! Realistic baseball action allows you to hit singles, doubles, triples, and homers with the spring-loaded bat.
If you want to play baseball everyday even when it's raining or night time, the Super Stadium Baseball Game is perfect for you.
You get everything you love about baseball without leaving the table. Magnetized infield creates ball movement.
Dual Pitching lever controls curve balls and changes speed. Your opponent won't be able to predict the type of ball.
You can throw a fastball, slider, sinker, change up, or whatever your preferred pitch is.
The Super Stadium Baseball Game has everything of a real baseball game.
Including Dual breaking ball lever, switch hitter feature, disappearing miracle ball, score pad, adjustable fielders positions, batter counts and the ability to choose pitches thrown.
Package contains (1) Game Zone Super Stadium Baseball Game with Realistic Baseball Action.
Includes (1) playing field, (1) bat, (1) pitcher, (3) base runners, (7) fielders, (3) score pins, (5) balls, score sheet, and instruction manual.
1 – 2 players, Ages 6 and up.
---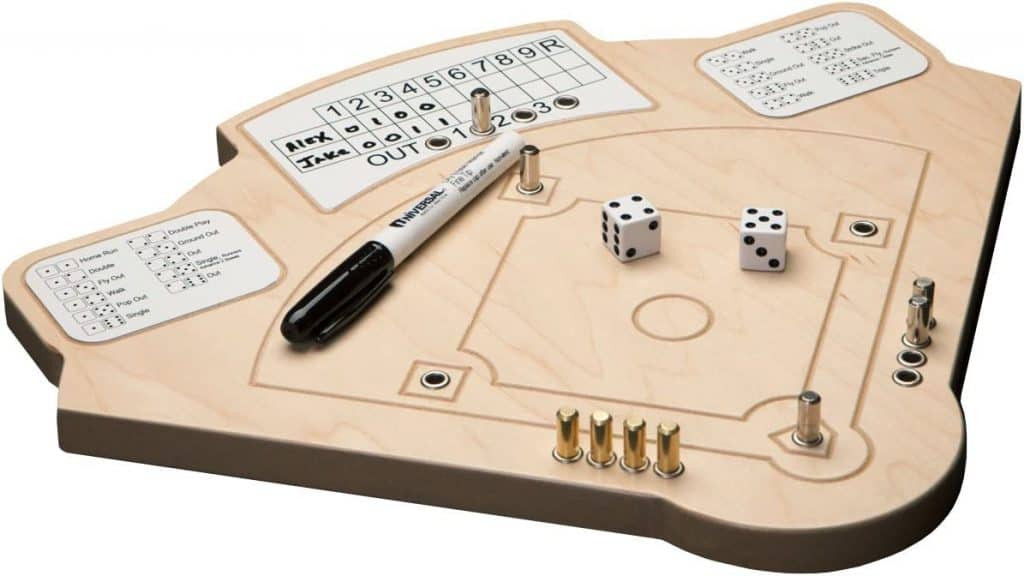 Across The Board is a St. Louis family owned and operated workshop specializing in high quality, handcrafter, unique items.
All products are made with premium materials and assembled with the utmost care and precision.
Attention to detail and providing unmatched customer service are their top Priorities.
They believe when you purchase a product, it should last and our products are built for generations to enjoy!
Hit a home run with this handcrafted Baseball board game!
The simplicity of the rules makes this an exciting game for rookies or seasoned Major Leaguers.
The unique Baseball diamond shaped playing surface features a dry erase scoreboard to allow for easy Score keeping.
If you enjoy Baseball, this game is sure to Score big runs!
This baseball board game includes wooden game board, pair of dice, dry erase marker, five chrome pegs and four brass pegs!
---
---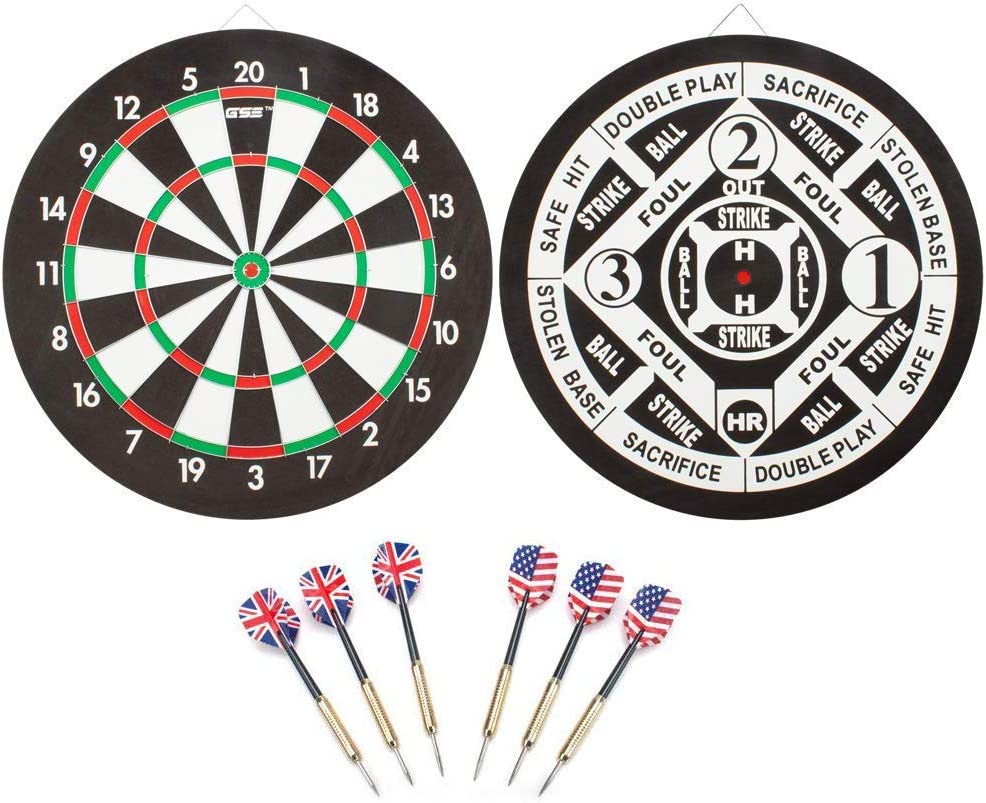 🎯Official Size – The dartboard measuring 18″ in diameter and 1″ in thickness. our dartboard is thicker and more durable compare with similar products on the market.
🎯Double Sided Design & Easy to Mount – Double-sided design board allows you to enjoy traditional dart games and baseball dart games. Easy hang wall template for seamless installation, dartboard comes with a hanging loop so it can be hung and flipped on a hook with ease, for your safety, please firmly fix the nail, screw or hook. but please note that it is not waterproof.
🎯Material – High density coiled paper construction ensures that your board will stand the test of time and colors will show brightly.
🎯Accessories – The set includes 6 of 17g steel tip darts and game instructions.
---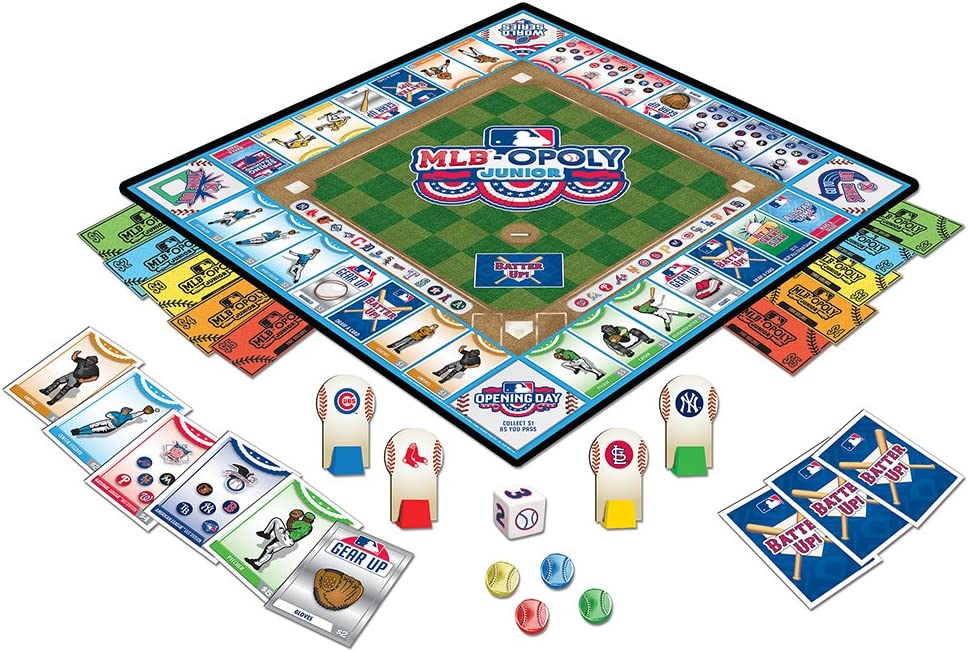 MLB Opoly Jr Board Game
Officially Licensed MLB Product
Features 4 playing pieces, 48 cards, 1 die, 1 gameboard, 44 baseball markers, 30 team sticker sheet
Perfect for 2-4 players, ages 6 and up
MasterPieces – An American Puzzle & Game Company.
---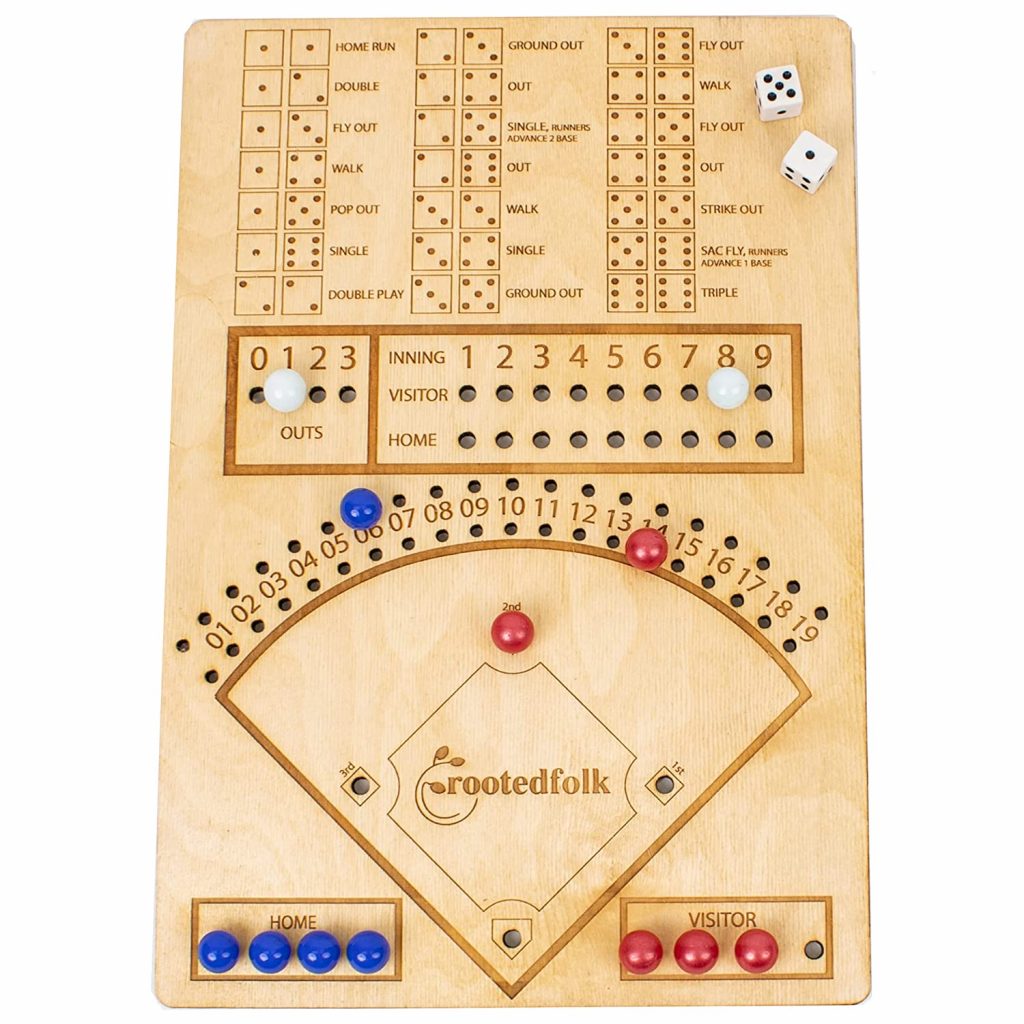 Dice baseball is perfect for the whole family and can be personalized with names or pictures!
Play 9 innings like in real life baseball or adapt the number of innings to meet your timeframe.
The dice baseball playing board is engraved on a piece of birch wood.
This item is customizable and can be engraved and personalized with your name, a team name, logo or whatever suits you.
Logo appears in the infield area of the game board; the standard playing board includes the crossed bats and baseball design in the infield.
The playing board is approximately 15 in by 10 in.
Bring the game of baseball to your home in board game form.
Includes: 12 marbles ( 2 dice for keeping track of innings and outs, and 5 for each time to mark runner positions and team score) 2 Dice Birch Board Game Surface Game Instructions.
WARNING: CHOKING HAZARD – Includes small parts. Not for children under 6 yrs.
---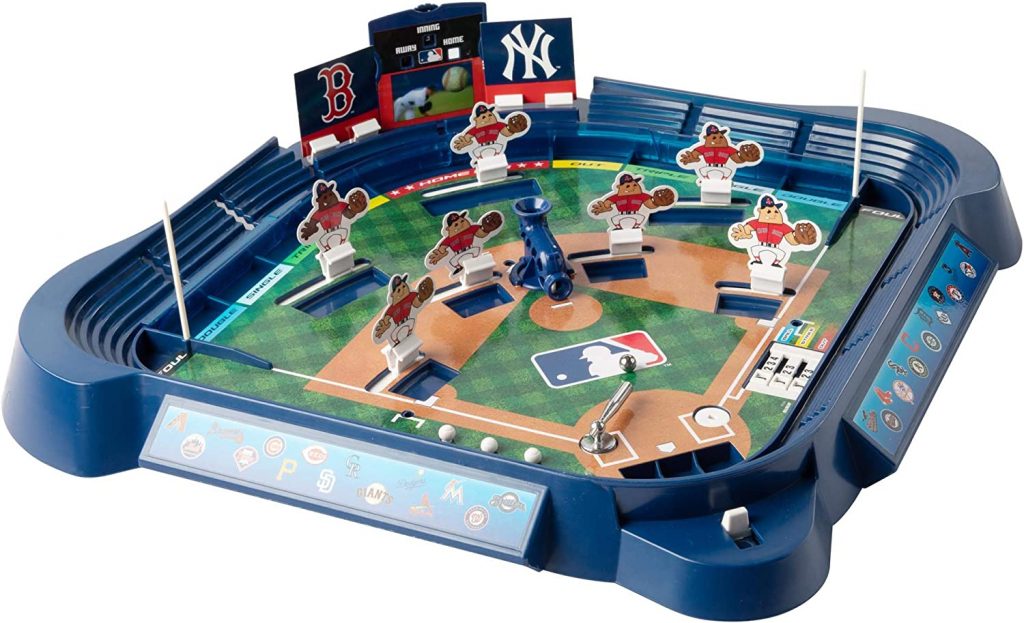 RAIN OR SHINE, THE GAME IS ON! The ultimate baseball board game; Play as your favorite teams!
ONE PLAYER LAUNCHES THE BALL, the other swings the bat; A lever moves the players to block the ball!
PERFECT FOR AGES 6 YEARS AND UP; Frustration-free design and functionality; Quality construction
STRENGTHENS HAND-EYE COORDINATION, concentration; Encourages math skills, imaginative play
MEASURES 19 x 19 x 2 INCHES; Features player pieces and billboard from all 30 MLB teams!
---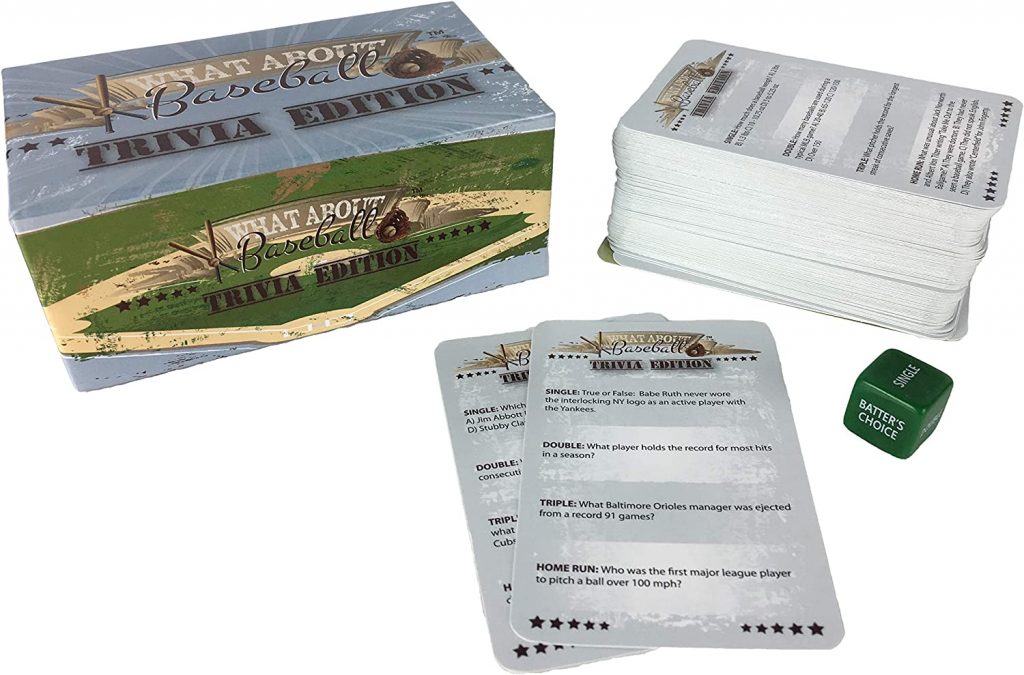 500 QUESTIONS of FUN and EXCITING baseball will help bring back family game night! Get some quality time and get to see who in the family really knows their hardball history.
No batteries required! Nothing electronic here! Take this compact set of baseball wisdom on vacation or to the ball field. Includes one die to dictate the action, as well as 500 awesome baseball questions.
Proudly MADE IN THE USA, just like the original What About Baseball board game that inspired this trivia game.
Anyone can play! Don't know a lot about baseball? Just use the questions marked as SINGLES or DOUBLES. Think you know it all? Play a full game and see if our TRIPLES and HOME RUNS strike you out or not. Ages 14 and up recommended.
What About Baseball Trivia Edition is perfect for the baseball fan that loves stats and facts about America's past time! Think you know it all? Take a swing and give it a shot!
---
I Hope This Best Baseball Board Games Gift Guide For 2022 Has Been Helpful!
---
Affiliate Disclosure:
This website uses affiliate programs for monetization, which means when you click on links to various sites that this website recommends and make a purchase, this can result in a commission that is credited to this site.
The products that are listed on this website are considered to be good quality products.
Atlanta Dugout Talk is designed to help consumers find products related to Sports Fan Gear & Product Gift Guides.
As an Amazon Associate I earn from qualifying purchases.