Best Baseball Pitching Machine Gift Guide!
In this Best Baseball Pitching Machine Gift Guide, I will provide you with the Best Selling Baseball Pitching Machines on Amazon!
I will also include some accessories that you can use along side with these Baseball Pitching Machines!
Be sure to check out all my Buyer Gift Guides!
Now let's look at the Best Baseball Pitching Machine Gift Guide!
---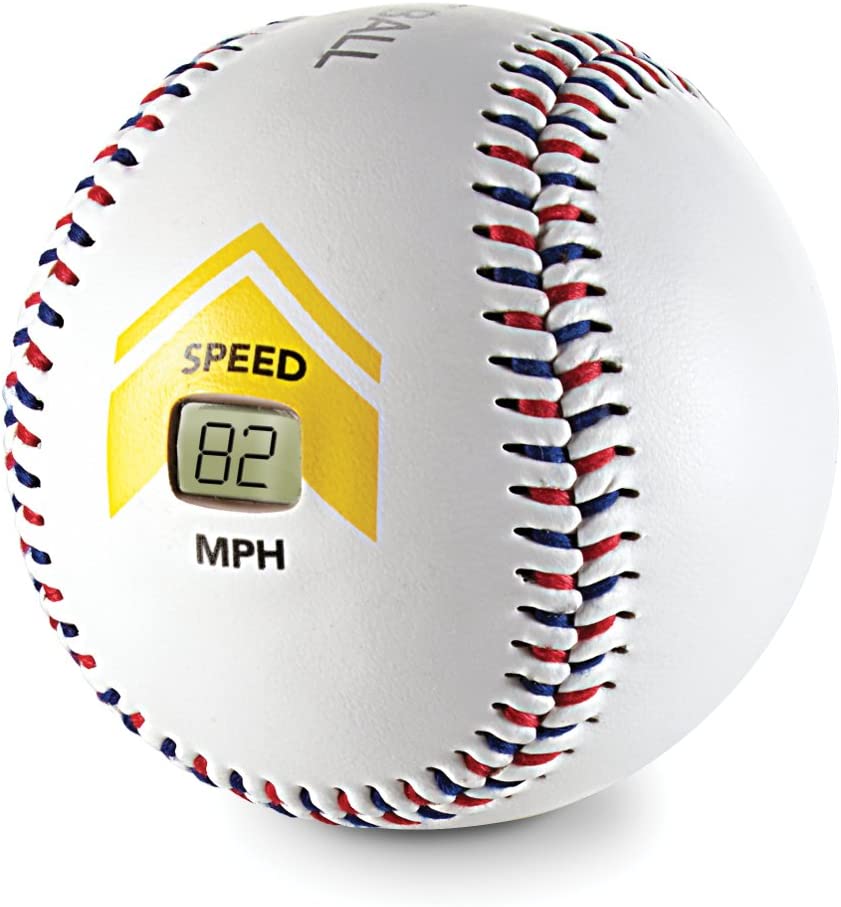 SKLZ Bullet Ball Baseball Pitching Speed Sensor!
Have you ever wanted to know how fast you can throw a baseball?
This Bullet Ball Baseball will give you the opportunity to find out for a reasonable price!
Standard baseball with 9-inch circumference
Ideal pitching trainer for any age or skill level
Adjusts to distances from 46 to 60 feet, 6 inches
Accurately measures velocities up to 120 mph
---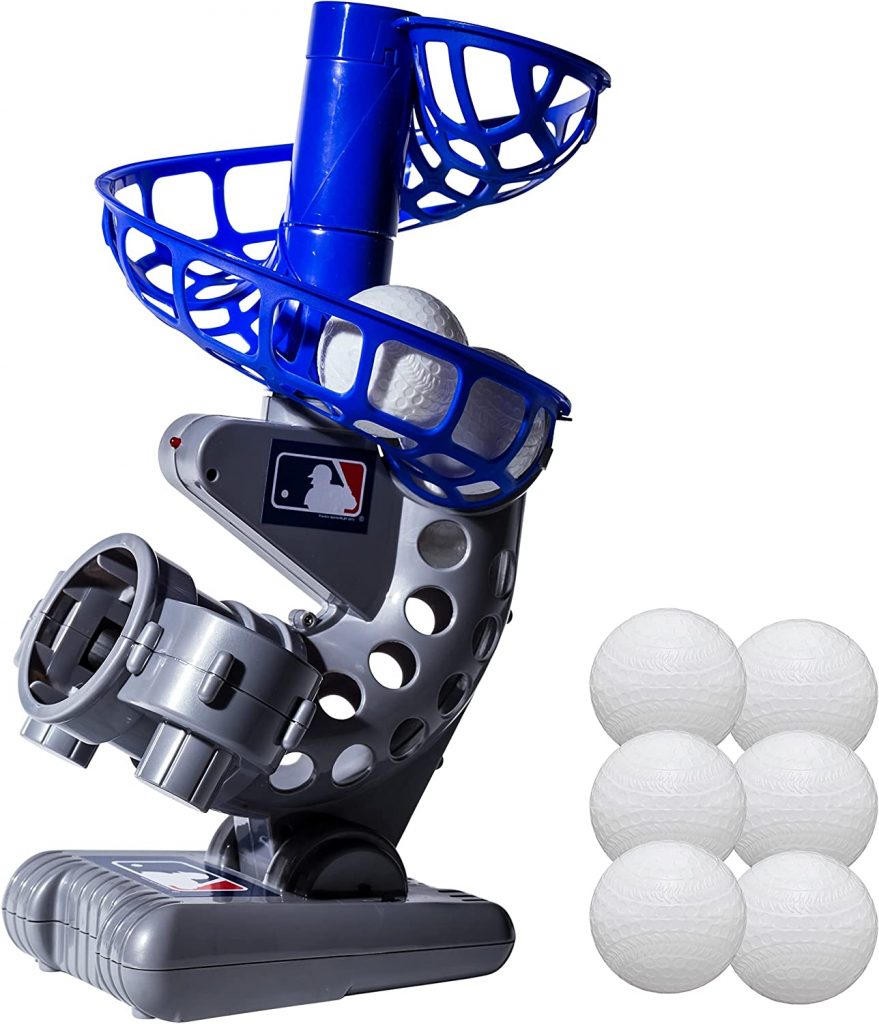 Franklin Sports MLB Electronic Baseball Pitching Machine For Kids Ages 4 – 12!
This is a great electronic pitching machine to help teach your kids how to hit a baseball or softball.
You can adjust the distance and height of this machine.
This electronic pitching machine requires 6 D Batteries.
7 second pitches: The ball pitches every 7 seconds for improved accuracy and precision on the field. Assembled height 7.75 x 9.5 x 9.875 inches
Flashing indicator: A flashing red indicator light shows when the ball pitches, making it easy to prepare in your baseball stance.
Height adjustment: The height of this baseball pitching machine is adjustable, making it a great option for developing young athletes.
Six balls included: This batting machine includes six white aero strike balls. You should not use regulation baseballs or tee balls with this baseball machine – only use the balls included.
Improve batting performance: Your child should ideally use a plastic baseball bat with this pitching machine.
---
This is recommended for kids ages 4 – 12 years old!
Best used with a plastic bat!
Pitch speed is between 15 – 20 MPH!
Perfect baseball toy: This is the perfect toy for any young kid that is a Baseball fan. Just load the balls and get ready for the pitch.
Adjustable angles: adjust the launch angle to practice hitting soft toss or fast pitch. Or work on fielding by adjusting the angle to practice ground balls or pop flies.
Great for young players: this pitching machine is perfect for teaching young players how to hit and field!
Balls included: This pitching machine comes with 6 compatible plastic baseballs to put in the ball feeder which can hold up to 9 balls at once! Balls pitch every 7 seconds!
Battery operated: Requires 4 "C" Batteries that are not included with the set!
---
---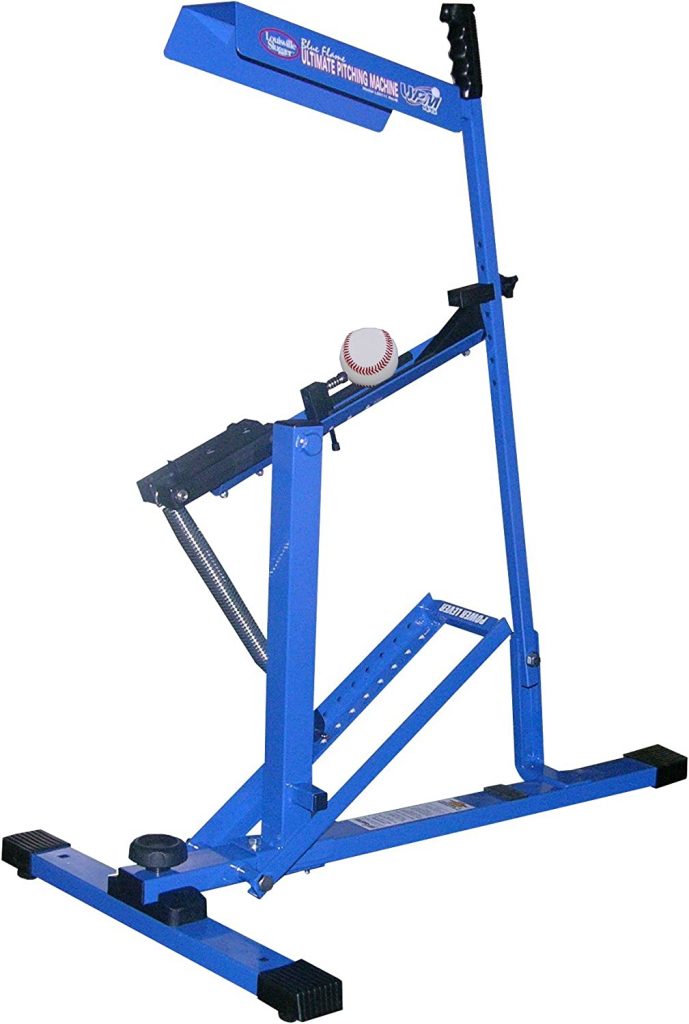 Throws any type of ball, hard balls, fast pitch softballs, dimple balls, light flight, plastic and even soccer and volleyballs
Throws hard balls from 18 to 45 mph with easy to adjust speed controls. And throws light flight and plastic balls up to 60 mph; Throws slowpitch softballs with up to a 12 inches arch
Throws a level pitch to help teach proper swing mechanics. Extremely accurate for throwing strikes, fly balls and even grounders.
The official pitching machine of both Babe Ruth League and Pony Baseball and Softball
It is completely manual, needs no electricity or batteries and is light weight and easy to move from field to field, weighs less than 25 lbs.
Great to set up to use for a variety of drills
---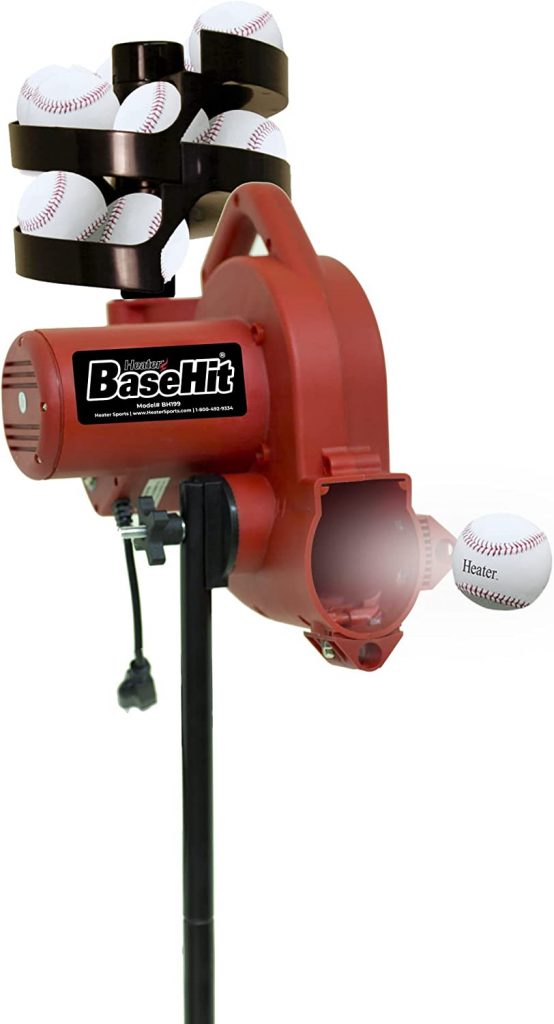 BaseHit Real Baseball Machine!
The BaseHit will be able to pitch lite-balls up to 60 MPH, and real baseballs up to 45 MPH and includes an auto ball feeder.
Did you ever want to be a great hitter, have quick wrists, and a great eye, and a strong swing? With this machine you can have all 4 with time and practice!
Introducing BaseHit, "The safest and most affordable real baseball pitching machine that makes you a great hitter at home or away."
PITCHES REAL BASEBALLS FROM 10-45 MPH – The Base Hit Pitching Machine Pitches Actual Baseballs Up To 45 MPH at 46′
PITCHES LITE BASEBALLS UP TO 80 MPH – The Base Hit Pitching Machine Pitches Lite Baseballs Up To 80 MPH (Depending on Heater Lite Ball Used)
PITCHES GROUNDERS & POP FLIES – Tilt the Head of the Base Hit to Throw Fast Ground Balls or High Pop Flies Up To 200 Feet
AUTOMATIC BALL FEEDER – Auto Ball Feeder Holds 12 Baseballs And Drops A Ball in the Machine Every 8 Seconds (Also Removable)
BACKED BY A 1 YEAR WARRANTY – The Base Hit is Backed By Heater Sports Fantastic Customer Service For 1 Full Year
---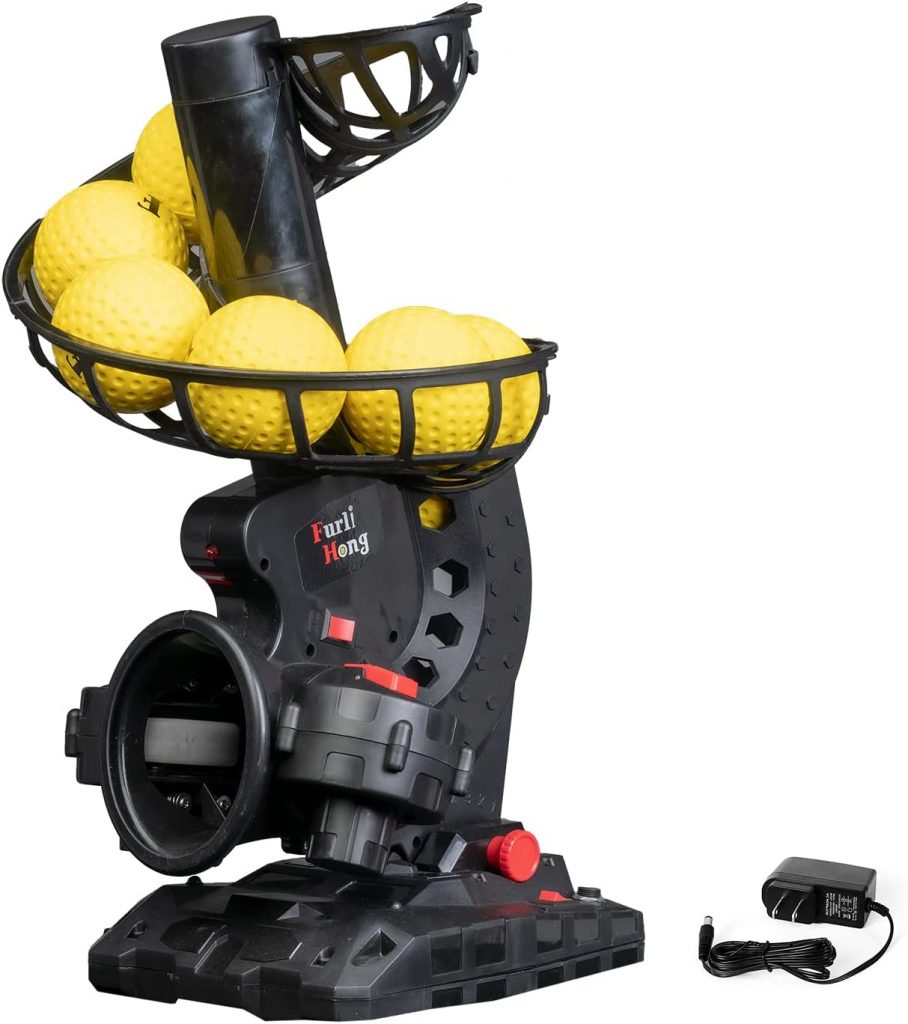 This machine has 4 speed adjustable with a maximum distance of 39 feet.
It has 3 different power supply methods: AC, Battery or Portable Power.
This can be mounted on a tripod to pitch higher and further.
Provides a whole adjustment from speed to angle of the two side wheels for all type of pitches – including fastballs, curves and sliders.
Runs on 4 D Batteries (not included) or with the provided 6V AC Adapter, portable and versatile. (please remove batteries when using AC power)
Max Speed 19 MPH with Furlihong quality polyurethane plastic dimpled balls( weights about 1 oz.) that are sting-free and won't dent bats, specifically designed for pitching machines.
Worry-free Purchase – They provide a 180 days parts warranty and respond within 24 hours to your inquiries.
Can not use regulation baseballs. Extra dimpled balls available at their amazon brand store.
---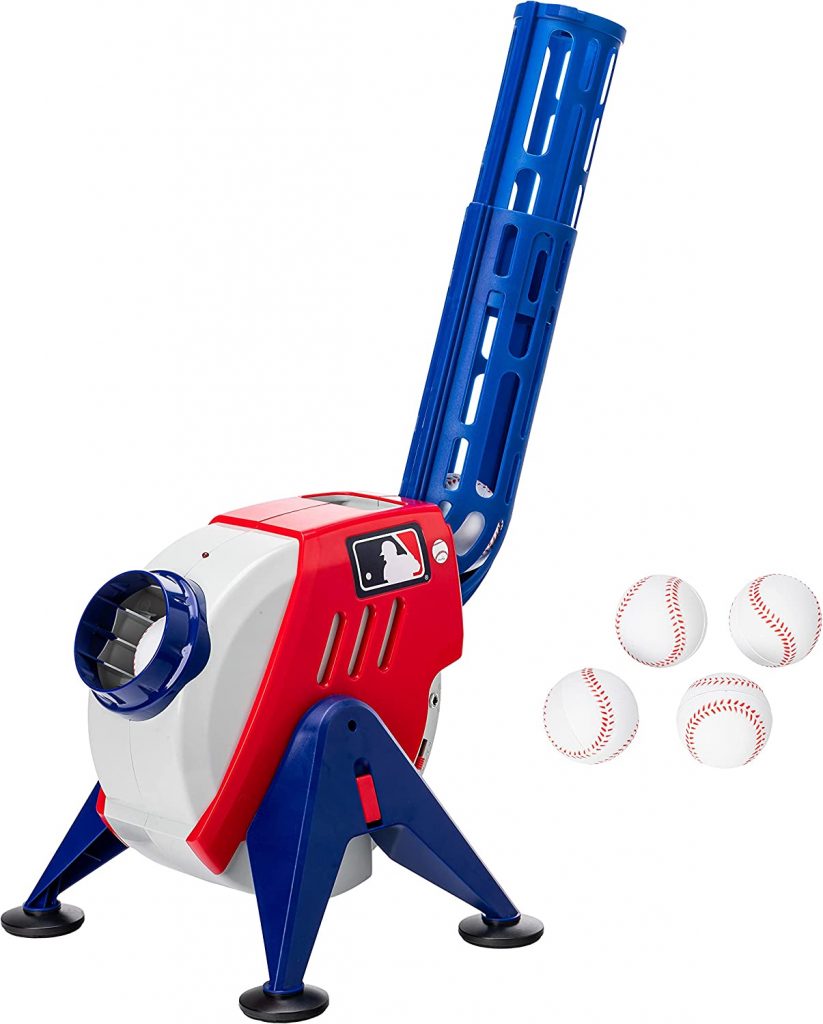 Learn how to hit with this 3 speed machine from Franklin Sports!
It also has 3 adjustable pitch angles.
Red light flashes for pitch release.
Ball feeder holds up to 9 balls.
Requires 4 C Batteries.
PRACTICE YOUR BATTING SKILLS: This is the perfect practice device for any young baseball fan. Just load the balls and get ready for the pitch. Nothing else is needed but a bat and room to play for hours and hours of baseball fun.
ADJUSTABLE PITCH SPEED: You can ramp up or slow down the speed to 10, 15, or 20 mph so that you get the right speed every time. The balls pitch every 7 seconds, and the red light indicates the pitch release so kids are ready for the ball to come each time.
3-ANGLE ADJUSTMENT: The kids pitching machine features a 3 position angle adjustment making it easier to accommodate your pitching needs each time you play.
BALLS INCLUDED: This pitching machine comes with (4) compatible foam baseballs to put in the ball feeder, which can hold up to 9 balls at once.
BATTERY OPERATED: Requires 4 "C" batteries that are not included with the set
---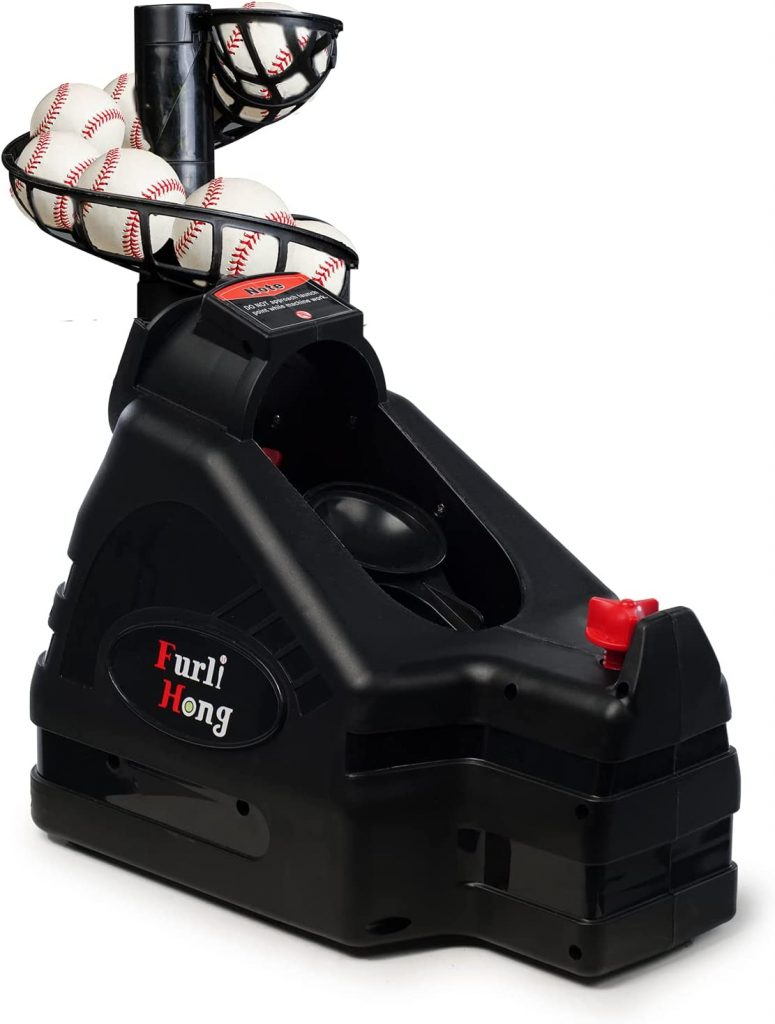 Versatile Device – Furlihong 698BH is a toss machine that can throw all kinds of baseballs & tennis balls, including regulation baseball, tennis ball and dimpled baseballs(2.9 inches).
Power Supply – Runs on 8 D Batteries (not included) or with the provided 6V AC Adapter, portable and versatile. (please remove batteries when using AC power)
Easy Adjustable Toss Height – You can easily gearless adjust the toss height and distance of 698BH by rotating the red knob, it is not a pitching machine and tosses balls at a limited height and distance, for regulation baseball, it tosses maximals about 5ft high and 12ft far.
Extendable – Comes with three 5.11 oz baseball dimpled balls. Extra spiral ball chute and dimpled balls are available at our amazon brand store.
Worry-free Purchase – They provide a 180 days parts warranty and guarantee respond within 24 hours to your inquiries.
---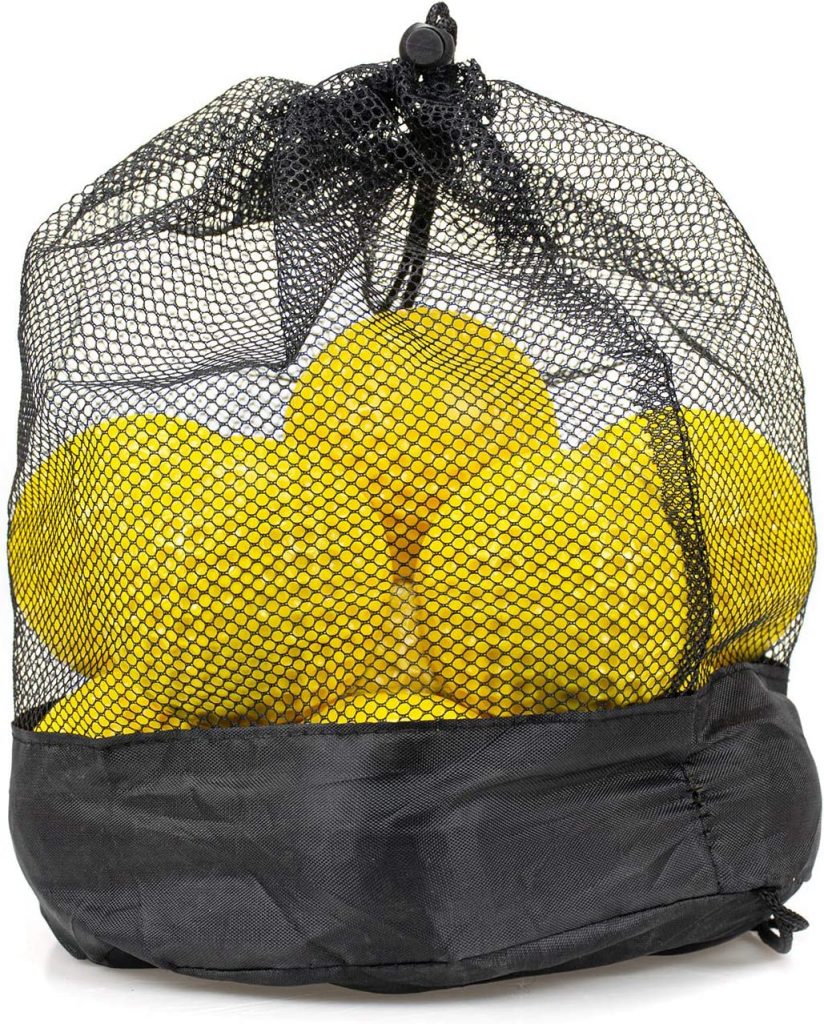 These pitching machines baseball are dimple molded, quality polyurethane plastic balls for player safety during use and increased durability overtime.
Easy to see and track with the bright color when the sun starts to set, lightweight enough that won't cause damage.
Ideal size for taking some fast pitch baseball batting or fielding practice so you're fully ready when game day comes.
One dozen balls for plenty of batting fun at the field or in the backyard. Come in a reusable mesh bag with drawstring for your storage convenience.
Won't dent aluminum bats and sting-free, specifically designed for use with pitching machines. Great For Perfecting Hand-Eye Coordination, Hitting and Fielding Practice.
---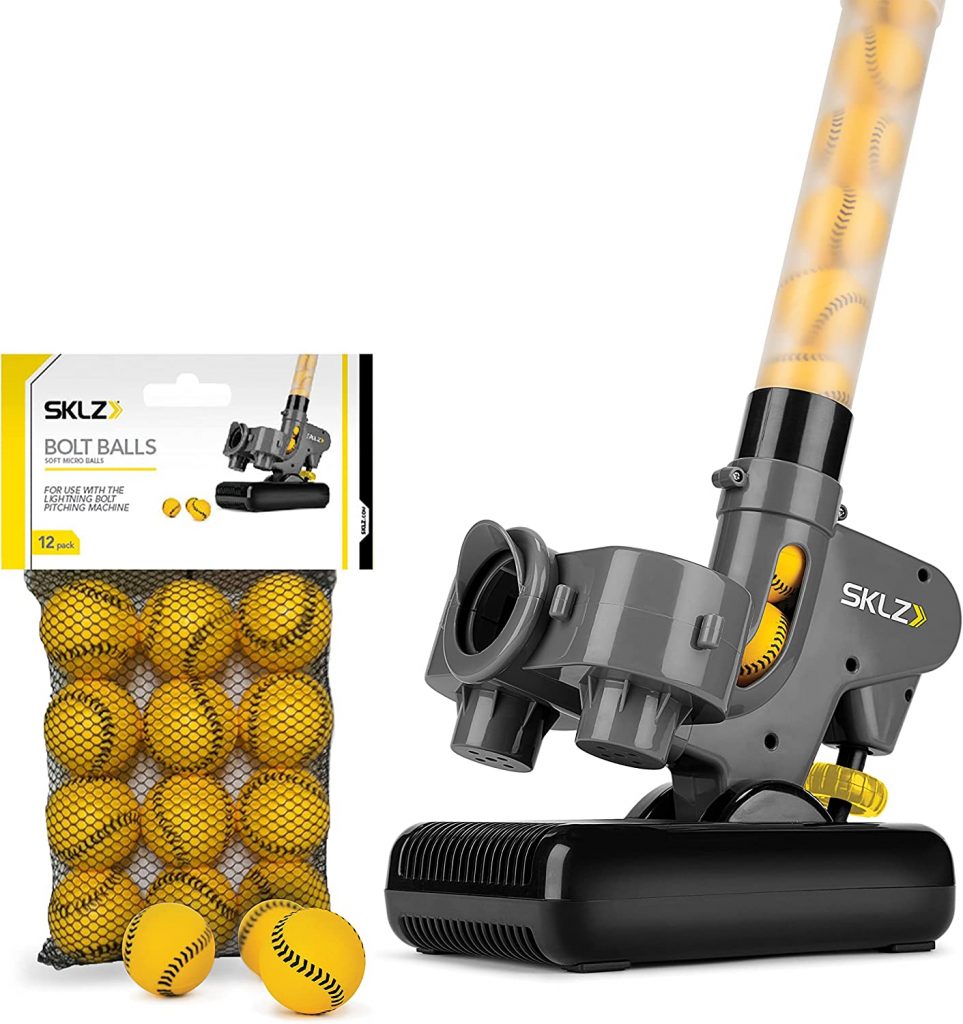 THE BUNDLE PACK made for any level baseball player to easily setup for batting training PITCHES total of 26 soft practice balls at 30 MPH every 5 seconds
DESIGNED TO IMPROVE contact at the plate through focusing on soft micro balls, batters work on visual processing building their hitting accuracy
LIGHTWEIGHT and portable fun training tool for hand-eye coordination that make hitters great
POWERED by AC adapter or 6 C batteries (batteries not included)
---
Affiliate Disclosure:
This website uses affiliate programs for monetization, which means when you click on links to various sites that this website recommends and make a purchase, this can result in a commission that is credited to this site.
The products that are listed on this website are considered to be good quality products.
Atlanta Dugout Talk is designed to help consumers find products related to Sports Fan Gear & Product Gift Guides.
As an Amazon Associate I earn from qualifying purchases.